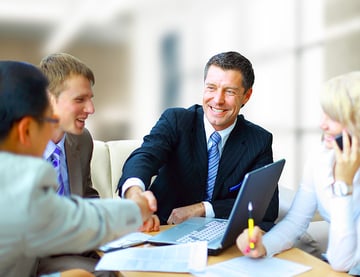 As an employee gains responsibility, they will have to make more and more decisions by themselves. Some decisions may concern more trivial matters, while others may have more of an impact on your organization. Either way it is crucial that those in power have the ability to evaluate a problem and arrive at a sound, confident decision.
Making decisions can be difficult at times, putting undue pressure on you and your employees. And making the best choice has a huge result, because if mistakes are made, they can cause doubt from others. To build credibility and steer your organization towards success, decision-making becomes a much-needed skill.
The best leader is one who can make sound decisions when faced with multi-faceted problems. But it's not only a matter of making the difficult choice but standing behind it as well. Having the confidence to do so relies on getting the most informed research available.
Formulating solutions to difficult issues is not a skill everyone possesses, but there are tips that can help when faced with making a judgment…
Be confident. Make decisions with strong convictions. If you're wavering in your decision, people won't stand behind you. You must believe that your choice is the right one and have the proper sources to support your selection.

Take Your Time. Don't rush into making a decision. If time allows, take the necessary time to run through every available route to avoid a hasty choice that will cause you more problems than it's worth. Consider all the alternatives.

Seek Input. Don't make a decision solely on your own opinions because you might miss a crucial piece of information. Ask colleagues to see if they noticed something you didn't. Discuss the situation and get different perspectives, that way you choose the best solution.

Look at the Facts. Take decisive action based on well documented facts and legitimate research. You must assemble all available data before making decisions. Decisions based on sound logic that are supported by outside, respectable sources will reap the most benefits.

Effectively Weigh Risks & Outcomes. Make sure that whichever decision is ultimately made, it's one that has been thoroughly discussed and analyzed. There can be uncertainties and assumptions cropping up in your team's minds, so ease those worries by taking the time to weigh the possibility of unintended consequences. Look at every possible outcome, financial impact, strategic ramifications, and every effect of this decision to the best of your ability. Make sure all possible risks have been taken into account, so that those supporting the decision feel comfortable.

Consider Alternative Decisions. Before making a commitment to a decision make sure you have looked at all of your available options. Consider every approach before taking action. When you weigh alternative paths before taking action, you will choose the decision that will produce the best outcome.

Stick with It. When making a decision, stand firm by your choice. You have done the research and chosen the best possible path for your company or your professional future. Displaying strength and assuredness in decision making will cause others (your organization, partners, etc.) to feel secure in that decision as well. Perhaps, you are even a little insecure about making big decisions. Knowing you did all your homework will give you the confidence you need to stand by your choice.
Making a successful and resourceful decision can be difficult. Being in a position of authority means making those hard and sometimes unpopular choices. Successful decision-makers have the ability to effectively communicate unpopular decisions alongside popular ones. Support is one of the most important things to have when making and carrying out a decision, and standing behind a researched and informed choice will set apart excellent decision-makers.