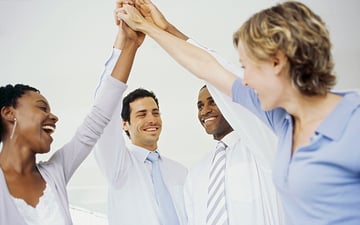 Most morale improvement articles focus on the pleasure of tangible benefits. Employee loyalty programs. Company discounts. Book clubs, coffee mugs, stress balls. While these all have their merits, morale goes beyond what your employees can accumulate based on a points system. The immediate gratification of a perk or discount is fantastic. It's a terrific pick-me-up after doing a hard project, or a nice reminder that the company appreciates the long hours you've put in. But to achieve continuous high morale from your workforce, the organization itself has to create a culture of gratitude, celebration, and development.
Gratitude: This is where the idea of the treat system comes in. The organization is genuinely grateful for the work an employee has put in, and to signify that gratitude, they give prizes or rewards. While these have positive effects and are certainly an easy way to mark achievement, creating an atmosphere of gratitude can be even more effective in producing positive morale. Commenting on a co-worker's assistance or praising a team's ability to meet hard deadlines can be even more rewarding. Having talent management software where those moments can be documented is especially effective. It's a central place where your workforce can catalog those times their fellow team members helped them. Recognizing another's helping hand is immeasurable to morale. Transparency, an engaging management team, and treating all members of your staff as valued team members are also easy ways to create a grateful, positive work culture.
Celebration: Utilizing software to notate moments of achievement is also paramount to productive employee morale. And having a sense of celebration around the office creates happy employees. Generating a fun atmosphere at work can be difficult in the fear it will detract from productivity. Having "too many" activities can make a supervisor think, when will we have time for work? But those team building activities or company-wide events garner a sense of companionship. They create a place of comfort and allow your workforce to take on the idea that this is more than a job. Also a celebration of achievements is important to show the value of your team. As a business, you may always be looking forward to the next big thing, but it's equally important to remember the completed goals that brought you to that point.
Development: One of the key areas of any survey conducted in gauging employee morale is whether their organization had given them sufficient means to train and personally develop their skills. Providing opportunities to continue education on your industry, organization, and skill set is necessary for happy employees. Everyone's looking to improve and possibly advance their positions, and keeping them developing within your organization will keep turnover low. But personal development is even more than that. One of the fresher ideas when it comes to workforce management is encouraging side-projects for your employees. Staff members are allotted time outside of their various tasks to work on personal projects as long as they relate back to the organization. Some companies see this autonomous "free time" as chance to grow their own product base or change their processes based on what their internal employees discover.
Morale is more than fleeting gratification. It comprises the confidence and self-esteem of your workforce. Recognizing their superb talents, celebrating their successes, and developing their skills are important aspects of your team members' lives, and therefore important to the attitude and persona they bring to work.